Price
calculators
Product: Select

uPVC Windows

uPVC Doors

Balcony Enclosures

Security Doors

Garage Doors

Blinds Shutters Screens

Type: Select

uPVC Tilt and Turn Windows

1 Fixed 1 Operable uPVC Windows

2 Operable Sashes uPVC Windows

2 Fixed 1 Operable uPVC Windows

1 Fixed 2 Operable uPVC Windows

2 Fixed 2 Operable uPVC Windows

uPVC Tilting Hopper Windows

uPVC Fixed Picture Windows

uPVC Fixed Windows Two Panels

uPVC Arched Windows

Profile: Select

Economy budget profile

Passive house profile

Casement window profile

Measurements: 500 * 500

Enter the measurements in millimetres (height * width)

*

height: 500 - 2100, width: 500 - 1600

Colour: Select

Exterior white interior white

Exterior with colour interior white

Exterior with colour interior with colour

Glazing: Select

Hardware Accessories: Select

Air Vents: Select

Interior Sills: Select

No interior sill

MDF white

MDF with colour

uPVC white

uPVC with colour

---

Width :


Exterior Sills: Select

No exterior sill

Galvanized tin

Galvanized tin with colour

---

Width :


Window Grids: Select

No window grids

Grids inside the glazing

Grids on the glazing

---

Number of vertical bars :
Number of horizontal bars :


Installation: Select

Extras: Select
uPVC Doors
uPVC Doors
uPVC Door Price Calculator
Select the desired type of uPVC doors to calculate the price.
Note:
If you are interested in other types of uPVC doors and wish to get a quote, please contact our staff. In case you have any questions regarding uPVC doors, please send us an e-mail Inquire about uPVC doors
uPVC Door Prices
uPVC door prices are determined by many factors, including the type of uPVC doors (hinged doors, sliding doors, folding doors), as well as the chosen uPVC profile and door glazing. The price of uPVC doors is also affected by adding any of the available accessories:
uPVC door colours: white uPVC doors are the standard. The price goes up if you choose colour laminated uPVC profiles.
uPVC door decorative glass: if you select decorative glass options such as textured glass or etched glass, the price increases.
uPVC door grids: any decorative door grids such as Georgian bars are priced separately.
uPVC door hardware accessories: any additional facilities raise the total price of uPVC doors. These include door closer, pull handle, security handle and others.
Additional accessories for uPVC doors: the price goes up if you want your uPVC doors to be sealed using supplemental door sealing tape or improve their performance by inserting warm edge spacer bars, or when you order a uPVC door maintenance kit.
uPVC Door Types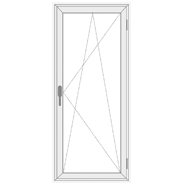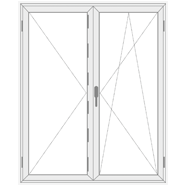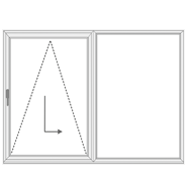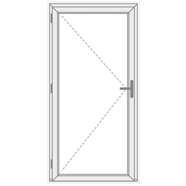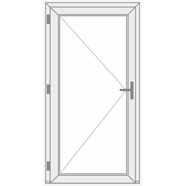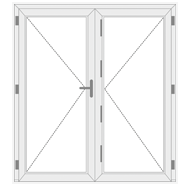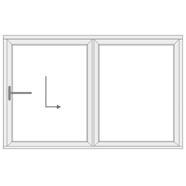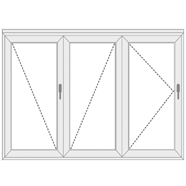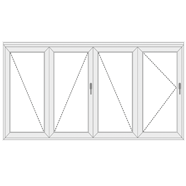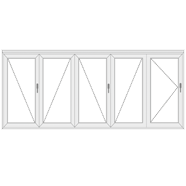 uPVC Tilt and Turn Patio Doors
uPVC French Patio Doors
uPVC Tilt and Slide Doors
uPVC Interior Doors
uPVC Front Doors
uPVC Double Leaf Front Doors
uPVC Sliding Doors Large
uPVC Folding Doors with 3 Panels
uPVC Folding Doors with 4 Panels
uPVC Folding Doors with 5 Panels
uPVC Door Guarantee
uPVC Doors
uPVC Doors Video
Price offer
Select a product and calculate the price
My shopping cart:
Total price: Eur
Discount: - 0 Eur
Total incl. discount: 0 Eur
Consult a specialist
Review the cart
Discount rate depends on the total price. All prices are calculated approximately. For the final price, please contact our staff.
Contact us
info@awindowsdoors.com