Price
calculators
Product: Select

uPVC Windows

uPVC Doors

Balcony Enclosures

Security Doors

Garage Doors

Blinds Shutters Screens

Type: Select

uPVC Tilt and Turn Windows

1 Fixed 1 Operable uPVC Windows

2 Operable Sashes uPVC Windows

2 Fixed 1 Operable uPVC Windows

1 Fixed 2 Operable uPVC Windows

2 Fixed 2 Operable uPVC Windows

uPVC Tilting Hopper Windows

uPVC Fixed Picture Windows

uPVC Fixed Windows Two Panels

uPVC Arched Windows

Profile: Select

Economy budget profile

Passive house profile

Casement window profile

Measurements: 500 * 500

Enter the measurements in millimetres (height * width)

*

height: 500 - 2100, width: 500 - 1600

Colour: Select

Exterior white interior white

Exterior with colour interior white

Exterior with colour interior with colour

Glazing: Select

Hardware Accessories: Select

Air Vents: Select

Interior Sills: Select

No interior sill

MDF white

MDF with colour

uPVC white

uPVC with colour

---

Width :


Exterior Sills: Select

No exterior sill

Galvanized tin

Galvanized tin with colour

---

Width :


Window Grids: Select

No window grids

Grids inside the glazing

Grids on the glazing

---

Number of vertical bars :
Number of horizontal bars :


Installation: Select

Extras: Select
Measurements, 1900x700,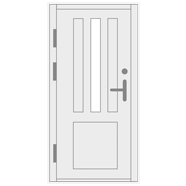 Security Doors
House Security Doors
Measurements mm (height * width): 1900 x 700
Price: 648 Eur
548 Eur

Measurements: 1900 x 700

0 Eur

Product: Security Doors

0 Eur

Type: House Security Doors

0 Eur

Colour: , Standard on both sides

0 Eur

Patterns: , No patterns

61 Eur

Primary Lock: , Cisa

27 Eur

Secondary Lock: , Assa

0 Eur

Installation: , Without installation

14 Eur

Accessories: Door hinge covers
Price offer
Select a product and calculate the price
My shopping cart:
Total price: Eur
Discount: - 0 Eur
Total incl. discount: 0 Eur
Consult a specialist
Review the cart
Discount rate depends on the total price. All prices are calculated approximately. For the final price, please contact our staff.
Contact us
info@awindowsdoors.com